Requesting Borrower Cert and Authorization for Esign Request or Print Function
1. Goto the eFolder

2. Make sure to NOT click on any of the document buckets, go straight to step 3
3. Click on the "Request" button on the top right.

4. Click on the "Add" button that is next to the "Preview" button.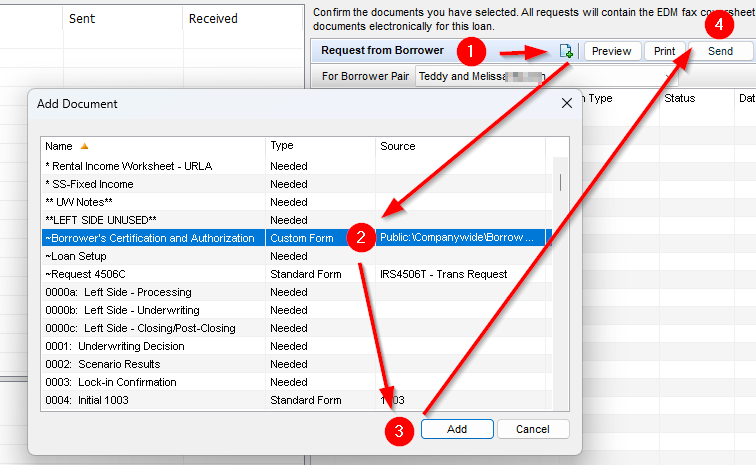 5. Scroll down to find "Disclosure Borrower's Certification" and click add.

6. Click Send

If you have multiple applications, click on the For Borrower Pair dropdown and select your 2nd applicant or 3rd applicant. and follow the steps above to add the document again.
Related Articles

Error in OB

1. Make change request. 2. Mark note for the duration of the extension. 3.. Make sure that you have a selected who the extension should be charged to. Options: Branch or Borrower

How to merge loans in Encompass

1. Open the primary borrower's loan file from the pipeline 2. Click on the Tools tab, then click Co-Mortgagors or the page and pencil at the top left to access Manage Borrowers. 3. To import a borrower, click the Import button. 4. Select Source ...

Credit Request Upgrade

If you receive the following message then a credit report was ran that either didn't reflect the spouse or additional person on the loan. This issue with credit report request is just due to having more then one borrower on the loan in tandem with ...

How to send your borrower a request to pay for their Appraisal via credit card.

Open your loan and go to the "Borrower Summary (Alameda)" form. On the right side you will find a pink button in the orange 'Document Tracking" section. (See Image Below). Click on the button ("Send Borrower Appraisal Payment Email." to launch a ...

Doc Request from Borrowers Perspective

Doc Request from Borrowers Perspective. This doc will give you some insight on what the borrower will need to do if a loan was created for them without an account being created first. And how to find requested documentation. Doc Request · ...